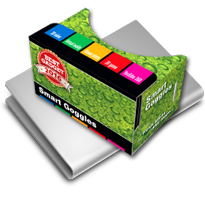 SMART GOGGLES
easy access to 3D and virtual reality

fits practically to all even the biggest mobiles (max. frame size 145 x 80 mm)

delivered as a kit for DIY

attractive appearance and high quality workmanship

easy and comfortable operation

large advertising area (full color print on glossy or mat finish)

high quality lens for wide angle of view

excellent, sharp, high contrast image

smooth regulation of lenses spacing

solid, ergonomic design contoured to the shape of your face

side "wings" to protect your phone from falling out

made of durable 3-ply cardboard

low price



Smart Goggles allow you to view photos and videos 3D and augmented panoramic 360° reality. With their help, you can of course also play games and 3D simulators. There have also been many attractive applications of an educational nature.
Currently, at our disposal are thousands of photos, videos, applications, games and 3D presentation, and their number is constantly growing. The biggest websites and web portals provide consumers 3D content. The most popular are YouTube 360, Google Street View and Facebook 360 Video.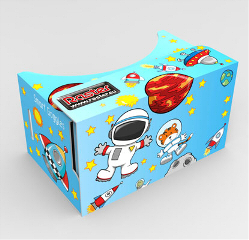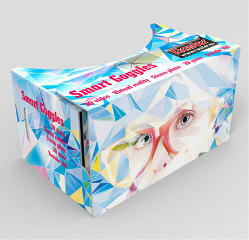 Thanks to in the network available programs, each user using smartphone can easily, put together own 3D movie, picture or panorama 360.

The world of virtual reality is not only fun content. Using this technology, you will be able to present your product or service in a whole new amazing way that provides the most realistic experience.