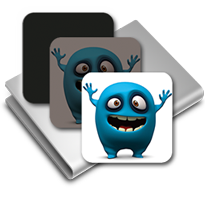 MAGIC STICKER
change in layout under the temperature influence

attractive especially for children

low price

possibility of production of huge amounts in a short time

surprising effect

have a practical use



Another possibility of print refinement are the thermo-active paints used for production of our promotional materials. The printed emblems change their colors while exposition to a definite temperature – the color may change, appear or disappear and the process itself is reversible (after reaching a certain temperature appears the thermo-active image or appears a classic-print-layout which was "hidden" so far under the thermo-active cover print).
Especially popular and successful among children are emblems for sticking on cups, which change their layout after pouring a hot beverage into the cup.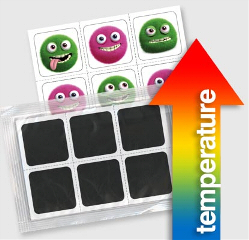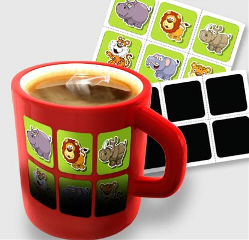 The application of thermo-active paints is not limited to visually attractive effects. Rightly selected materials allow to make the product also practical. For example you can make emblems which "remind" the driver to change tires, emblems indicating the proper temperature of the cooled beverage (wine, beer), food prepared for children or bath. They can also warn against an extreme temperature or overheating of machinery covers, heaters etc.
Thermo-active inks can be used in combination with other print techniques and for production of most of our articles.